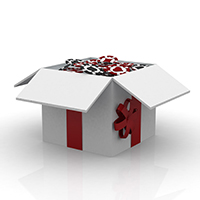 On this page you'll find a list of our casino reviews. Each review covers the basics you need to know to make an informed decision about where to play. The focus is on each casinos' tri-card poker game (obviously), but we also cover the other games available, the ongoing promotions and the banking methods that each casino has.
To read the reviews just click on a link below. When you find a casino that you like you can follow the links that are in each review to signup.
Below I've written up an overview of the information that I look for when I review a casino. Read on to see what I look for and why I think it's important.
The Tri-Card Poker Game
First and foremost, the most important factor is the tri-card poker game itself. What I look for here is the software and payout odds.
In regards to the software, my first concern is compatibility. Does the casino offer a version of their software that works on Macs or Linux operating systems? If not, do they have a no-download version that works from your browser using java or flash? Most casinos will offer the latter. I also look for mobile software. Mobile software is hit or miss with online casinos now, but since mobile is getting bigger everyday, I can only assume that soon more casinos will start providing versions of their software for your phone or tablet.
In addition to compatibility, I also care how the software looks and functions. In this day and age, I want a real casino experience. That's hard to get out of software that looks like it's from the 1990s. More importantly though, does the software work well? I look for lag, speed of the cards being dealt, if all the buttons and options are easy to find and how well they work.
Last, I look at the game. The first thing I look at is the table limit. $1 is common for the minimum, but maximums vary from $25 to $1,000. If you're not a high roller than the maximum might not matter to you. But if you are, you'll want to keep an eye out for that.
It's important to compare the Pair+ Payout and Ante Bonus Payouts, too. Compare casinos to see where the better payouts are. All things equal, it doesn't make sense to pass up a casino that pays better. That's leaving some easy money on the table.
Other Casino Games
Although not as important as tri-card poker, I do look at what else the casino offers. If you're anything like me you enjoy playing more than one casino game.
So, what do I look for? I prefer variety over anything else. I want as many games as possible, but not all in the slots department. Many casinos boast having 100+ games, but then after checking it out you realize they have a handful of table, specialty and video poker games, and the rest of their library consists of slots. If that's your thing, great, but it's not for me.
I also look for unique games that are not available everywhere else. Things like live dealer games, or blackjack variations such as Spanish or European blackjack.
Ultimately though, it will come down to you and your preferences. What games do you want to play? I just look for the biggest variety as I feel that will satisfy the bulk of our audience.
Casino Promotions
Nearly every casino offers promotions, whether it's for first time depositors, VIP programs or for specific games. So there's no reason to walk away empty handed.
The most common promotion is the deposit bonus. This is reserved for players signing up and making a deposit for the first time. These are usually match bonuses where the casino will match a percentage of your deposit up to a dollar amount. For example, Aladdins Gold offers a 100% match bonus up to a maximum of $200. So if you were to deposit $200 you could earn $200 free.
I say "could" because it all depends on whether or not you're able to clear the bonus. Each casino will want you to play for real money and wager so many times your deposit (plus bonus) before you're able to withdraw your funds. For example, Aladdins Gold requires you to rollover your bonus 50x. So you'd have to wager $10,000 before you can make a withdraw. You'll want to compare casinos to find a balance between biggest bonuses and easiest play through requirements. For example, Bovada has a $200 bonus with an 80x rollover, so Aladdins Gold would be the better choice.
Other Promotions
Other promotions should be considered too.
One thing I suggest looking for, especially if you are only going to have a handful of casino accounts is a VIP program. VIP programs usually offer players cashback, increased table limits, fee-free banking, exclusive deposit bonuses and other incentives. VIP programs can be a great way to make your money go further.
Another thing to look for are reload bonuses. These usually aren't as generous as deposit bonuses, but they're still a great way to pick up an extra couple hundred dollars. Be sure to read the terms and conditions, as nearly all of them will have rollover and game requirements. Some are even game specific.
Banking Options
With banking options what I look for are multiple options. The more options that you have, the less likely you're going to get hung up on getting your money to/from your account because a processor went down. This is especially important for US players.
Support
Support is a big deal to me, as it's one of the only times where you'll communicated with someone from the casino. It can easily make or break your experience.
The first thing I look for are multiple options for getting in touch. I prefer live chat, but a casino that offers phone support is solid too. This is usually in addition to email and/or a contact form.
Before signing up I definitely recommend testing the support out. Check to see how fast they are, how they treat you and whether or not they're capable of answering your questions.
And that's all there is to it. The stuff I look for is very basic, but all important when looking for a fun and exciting tri-card poker experience.